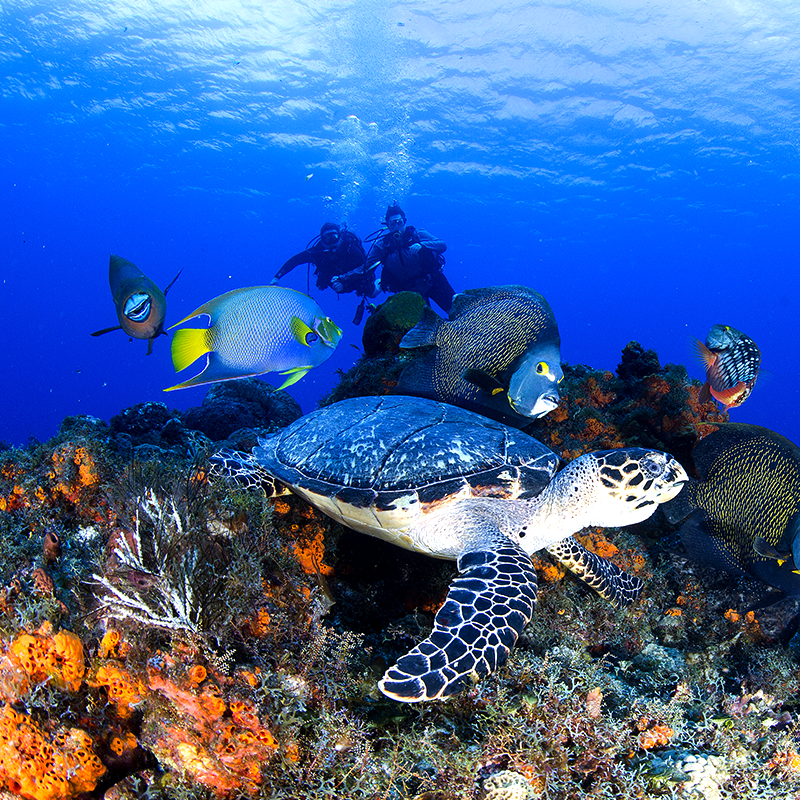 Palancar Gardens
Depth – 40m/130ft
Level – Advanced
Prerequisites – Advanced Open Water Diver or 25 Dives
Palancar Gardens is one of the most popular dive sites at Cozumel.  It has some amazing coral formations and extremely healthy coral.  We make our initial descent to 10m/33ft depth where the wall begins and then drops down all the way to 40m/130ft.  There are countless passages, arches, little entries and cliffs that will blow your mind. The coral is so healthy that animals can be incredibly camouflaged with the rest of the environment.  With a keen eye you can to find a variety of huge crustaceans.  The are able to grow to such sizes because Palancar reef is within the National Park, therefore it is protected from fishing.
Palancar Caves
Depth – 27m/90ft
Level – Advanced
Prerequisites – Advanced Open Water Diver or 25 Dives
There are huge pinnacles that were formed close together in this area, creating a dense coral mass with a maze of swim throughs, tunnels and caves.  This caverns allow enough light to provide a safe passage and is a great place for wide angle photo opportunities.  This dive begins at a large sand bank that slopes down through one of the many canyons that will bring you to the edge of the wall at 24m/80ft.  Turtles are very common around this area and Spotted eagle rays can be seen swimming through these structures more often than not. Gorgonians and sea fans are attached to the ceilings and sway in the moderate current.  Towards the top of the reef you will find schools of Blue tang, Four-eyed butterflyfish, and many others as you make your ascent.
Palancar Bricks
Depth – 27m/90ft
Level – Advanced
Prerequisites – Advanced Open Water Diver or 25 Dives
This is the most southernly of the four Palancar dive sites.  Although it is similar to the other sections of Palancar, Bricks is not a continuous wall.  It has tall coral pinnacles separated by sandy slopes dropping off into the abyss. Upon your descent, you will first encounter a wall between 10m/33ft to 15m/50ft tall, which will then lead you to the big 14m/45ft to 30m/100ft wall.  Along the shallow area you will see groupers and some Hawksbill turtles, and keep your eyes peeled for the juvenile Spanish hogfish.
Palancar Horseshoe
Depth – 5m/15ft
Level – All
Prerequisites -None
This part of the Palancar reef has a natural U-shape can be easily seen from the surface, thus the name "horseshoe."  Due to a vast section of dense coral growth along the wall, it looks like a mountain with many valleys and canyons.  Once you reach the top of the reef, you will find schools of doctorfish, Blue tangs, parrotfish and a many other species.