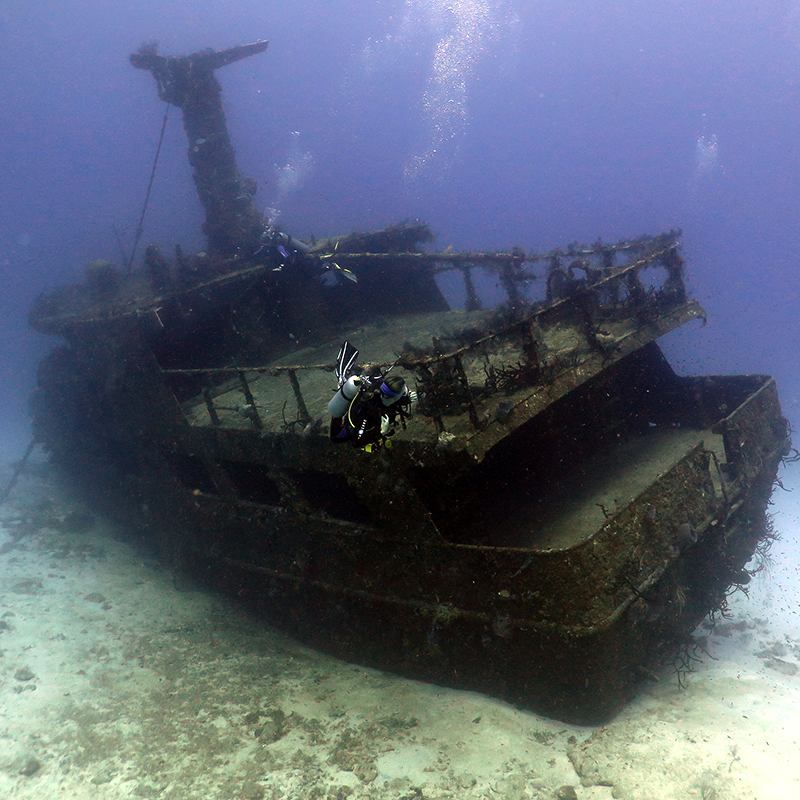 For some it is only about deteriorating places, that lost the battle against time and the elements and that lost their beauty a long time ago. Scenarios that already gave the best they had for humanity and now are only taking a place, fortunately here we do not think the same of the Best Wreck Diving Sites in the Riviera Maya.
Places that in their moments of glory worked as collector ships or transported the happiness of people in the area. Now they lie at the bottom of the sea, but contrary to what some people think, not only are they twisted and rusted irons, but they are the new home of countless marine species, a place where flora and fauna coexist and of course, that makes it special to dive.
The Riviera Maya has some spectacular wreck diving sites. To reach them you need to get the diving certification and as we have mentioned on other occasions, travel in a group and with the correct equipment that facilitates submersion and increases your safety in the water.
Best Wreck Diving Spots in the Riviera Maya
The USS Harlequin
When we talk about places full of history and mysticism, we cannot leave this boat out of the conversation. But at the time of the World War II and now located at the bottom of the ocean, it has already changed its usefulness for humans, however we cannot lie, beauty never lost it.
Used as a minesweeper in the beginning, it was acquired and sunk by Mexico in the 80s. The reason? Create a coral reef that exceeds the expectations of visitors and inhabitants of the area.
The result was outstanding and year after year calls for different species of fish, manta rays, barracudas and other marine animals, which combined with light conditions, make a unique show in the Riviera Maya area.
To be a witness to the USS Harquelin, you must submerge 85 feet. Although it was halved in 2005 by currents during Hurricane Wilma, it also known as General Anaya, is undoubtedly one of the best wreck diving sites in the Riviera Maya.
C-56 MineSweeper
But the previous one is not the only boat that was purposefully sunk to stimulate marine life in the region. The C-56 Mine Sweeper continues to attract curious divers day after day. Located in Puerto Morelos, it is a perfect excuse for intermediate divers for a dip.
Sank in 1996, this MineSweeper is in a perfect area for the birth and maintenance of marine flora and fauna. The Juan Escutia has an area of 200 feet long and three decks to explore: bath machine, ammunition room and cabins. Undoubtedly an experience that lovers of diving, cannot miss.
They are not the only ones
But if your thing is not specifically to delve into sunken ships in the area, the Riviera Maya offers other great options for you to put your ingenuity and diving skills to the test. Places so diverse that they give us scenarios suitable for all tastes, flavors and colors.
Cenotes
The Cenotes ares natural caverns fill with water. Although it is true you need a special certification to be able to carry out this type of expeditions, what your eyes will see will make it worth every minute you invest in learning. It is not only about entering mysterious waters, but also knowing spaces that were created by nature thousands of years ago.
Playa del Carmen Reefs
World-renowned for their beauty, these places are also special for the marine life they congregate every day. One of the most striking sightings is that of the turtles, if you get your certification, you could do explorations in which you can photograph them or live with them closer than you ever thought.
How do I certify?
The first thing you must have if you want to get certified to reach the best wreck diving sites in the Riviera Maya, is the willingness to learn and good physical condition. It is also essential that you count at least two days of your time in the area for the tests to which you will be subjected.
These tests will explain how to improve your breathing capacity, position yourself under water and group communication. Before that, as in the normal certifications, you will have to comply with the theoretical part, the great advantage of this phase, is that you can get it online, in this way you can advance the studies and not interrupt your trip.
If you want more information, click here! And you will begin an adventure that you will never be able to forget, that of immersing yourself in the home of thousands of marine species.